If you're new here, you may want to subscribe to our RSS feed. All subscribers are automatically entered in our Car Seat A Week Giveaway. Thanks for visiting!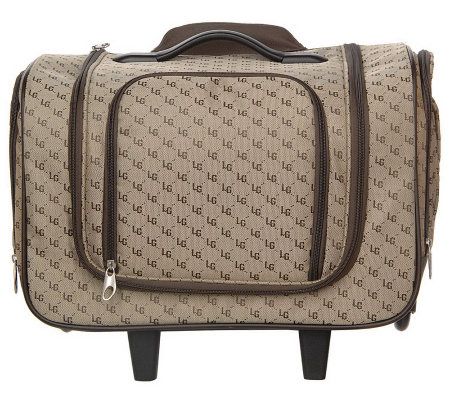 All winter and spring, I've been using the Weekender Bag and am simply amazed at how much fits inside this easy to transport little bag. Enough for a 2 night stay in DC, for sure. With so many pockets for so much organization, it simple to pack for a quick getaway.
The Weekender (mine, of course, is pink) is a 3-piece set: a large wheeled luggage bag with a very sturdy frame, a detachable toiletry roll (with more than ample pockets) and a removable cosmetic case. And then there are the pockets. Oh… my love for pockets. There are pockets within pockets! I counted 10 of them on the luggage bag itself (including 1 clear vinyl on the inside, 3-4on either end, both inside and outside, two on the outside front flap, one inside front flap (which has a handy hanger to keep the flap open).) Plus the cosmetic and toiletry bags both have their pockets. Now when I pack for a weekend I'll know exactly where everything is.
The retail price is $103, but the QVC price is only $56.40. At that price, I'm considering picking up a few extras to give as holiday gifts.
If you don't need the luggage but could use a little organization on your travels, check out this four-piece set of Travel Organizers with a tote. On clearance (also at QVC) for only $29.48, you'll get a cosmetic organizer, a toiletry organizer, a lingerie organizer, and a jewelry roll that all pack neatly into a 15″x 16″ tote. I don't recommend carrying the organizers alone, but for easy packing and tucking them into another bag, this is a super value.